Mihajlovic with Russian Railways: Instead of diesel, we will make gas locomotives
Fri, 02-14-2020 - 09:15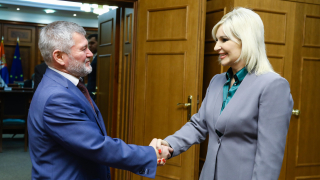 Deputy Prime Minister and Minister of Construction, Transport and Infrastructure, prof. Zorana Mihajlovic, met today with the first Deputy Director General of "Russian Railways" Sergey Pavlov and with him, in the presence of the Ambassador of the Russian Federation in Belgrade, Aleksandar Bocan Harchenko, discussed current and future railway infrastructure projects.

Mihajlovic emphasized that RZD is one of the best companies in the world that works on the most difficult and largest project in this part of Europe - the construction of a high-speed railway line from Belgrade to Budapest, and that at the end of the next year from Belgrade to Novi Sad trains will be going 200km/h.
"Russia is our friend and partner and today we also discussed new projects, which were discussed between our two presidents, Aleksandar Vucic and Vladimir Putin, first of all the continuation of the reconstruction of Bar railway from Valjevo to Vrbnica and construction of a unique dispatch center. We expect that during the visit of the Director General of the Railways in April we will sign an agreement on the reconstruction of the railway line, but also lay down a capsule and mark the beginning of works on the construction of this dispatch center," she said.

Deputy Prime Minister said that she was proud of the support of the Russian Federation and added that RZD was considering a proposal to create a joint company for gas locomotives in Serbia, which would be of great importance for our economy.
Sergey Pavlov added that the works on the section of the high-speed railway line from Stara Pazova to Novi Sad are executed according to the agreed dynamics and that it is a part of the traffic corridor, which trains will run 200 kilometers per hour.

"In addition to current projects, today we also discussed new activities, first of all Bar railway and a unique dispatch center. We have 1,500 workers at construction sites in Serbia and we are happy to share our knowledge and experience with our Serbian colleagues," Pavlov said.

Ambassador Bocan Harchenko thanked Deputy Prime Minister and the Ministry for good comprehensive cooperation and support, which is extremely important for successful implementation of the projects.

"We are proud that the Russian Railways are part of the development of Serbia and the realization of projects in your country. Infrastructure development is crucial for Serbia's integration into Europe, I am sure we will continue to foster co-operation in the field of infrastructure projects," he said.