Mihajlovic: Serbia is the first in the region to do a study on gender equality in transport
Sun, 01-26-2020 - 08:19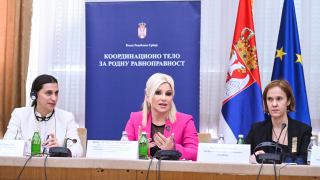 Deputy Prime Minister and President of the Coordination Body for Gender Equality, prof. Zorana Mihajlovic PhD, said today that Serbia is the first country in the region to do a study on gender equality in transport, which will also be a starting point when developing a new transport strategy.

Mihajlovic, opening the conference "Presenting the key findings of the study Gender Equality in Transport in Serbia ", stated that this analysis showed that of the total number of employed women, only 2.3 percent work in the transport sector, that women make up 20 percent of employees in this industry, and that they are also being under-represented in management positions.

"We cannot separate any sector, not even the transport sector, from gender equality. Transport is not only good roads, transport is also beneficiaries, and women as beneficiaries have many problems that further affect their employment and position in society. We want to work on improving the quality of life of all our citizens, and that is why improving transport services will be one of the important determinants of the new transport strategy," said Mihajlovic.
She said that the development of the study is a pioneering endeavor for Serbia and the first important step in achieving greater gender equality in the transport sector, which will have an impact on other sectors as well, since the gender equality situation in transport reflects the wider social situation.

The World Bank's Transport Manager for Europe, Karla Gonzalez Carvajal, said that gender and urban mobility are increasingly important in transport policies, which are changing the way we think about transport.

"Serbia is following the path that Europe has taken as well, to realize that transport is not gender neutral, and the study that has been done is the first step in that direction. It is particularly important that Deputy Prime Minister announced that the findings of the study on gender equality in transport will be incorporated into the new transport strategy," she said, adding that the World Bank is ready to provide all support on this issue.

Head of the UN Women for Serbia office, Milana Rikanovic, said gender equality must be seen as an integral component in all sectoral policies, to ensure equal access to resources and services in society, as well as access to rights and markets for women and men.