Mihajlovic: Serbia open to new Chinese investments
Fri, 06/14/2019 - 18:00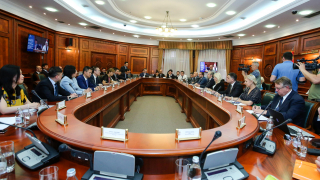 Deputy Prime Minister and Minister of Construction, Transport and Infrastructure, prof. Zorana Mihajlovic PhD., spoke today with a delegation of the Trade Development Council of Hong Kong and Chinese companies on the possibilities for cooperation on new infrastructure projects in Serbia.
"The Republic of Serbia and People's Republic of China have not only friendly bilateral relations, but also better economic relations, and the fact is that most of the Chinese investments are in the area of ​​infrastructure. Today, for the first time, we had one large joint delegation visit from People's Republic of China and Hong Kong, with whom we discussed the infrastructure projects we are working on with China, as well as potential new projects, " Mihajlovic told journalist after the meeting.
She pointed out that the value of projects implemented in cooperation with PR China is about seven billion euros, and that the value of potential projects is around eight billion euros. "The results of our cooperation with PR China, citizens can already see in the highways and bridges we built, as well as visible results in railways," she said.
Deputy Prime Minister added that the Chinese businessmen especially praised the business conditions in Serbia, and that the message from the Serbian side was that it wants even more Chinese investments, which will bring new knowledge and new technologies to Serbia.
The general manager of Taiwan, Hong Kong and Macao Department at the Ministry of Commerce of the People's Republic of China, Sun Tong, thanked Deputy Prime Minister at today's meeting and stressed that the delegation is representative of Chinese companies working on the largest projects in the world and who want to get acquainted with projects in Serbia, as well as to share their experiences.