Mihajlovic: Serbia is stable today and can build six new highways
Tue, 09-10-2019 - 13:04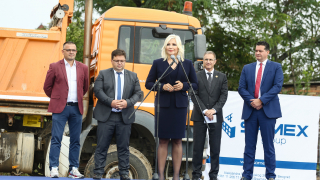 "Having in mind the political stability and financial consolidation, the state can stand up to any big infrastructure project, which have been building for years and are very valuable. We are committed to connecting Serbia with the region much more than it has been the case so far and we are building six new highways, "said Deputy Prime Minister and Minister of Construction, Transport and Infrastructure, prof. Zorana Mihajlovic PhD today in Sremska Mitrovica.

She pointed out that construction of Preljina-Pozega section, which is part of the highway Milos the Great, as well as the highway to Bosnia and Herzegovina from Sremska Raca to Kuzmin, began in May, and that works on the construction of Moravian corridor will start soon.
 
"For Fruska Gora Corridor, which is divided into five sections, the project-technical documentation for the first four sections has been completed. Talks are underway to conclude a commercial agreement with Chinese company CRBC and it is realistic to address the sources of financing at the end of this and at the beginning of next year and to start the works next year, " she said.
Mihajlovic added that she will sign the contract with European Investment Bank on Thursday to finance the construction of Nis-Merdare-Pristina highway.
 
"For the first section from Nis to Plocnik, we are signing the financing agreement with EIB worth EUR 100 million the day after tomorrow, as well as the contract for an investment grant worth EUR 40 million," Mihajlovic said.
 
She also said that the project-technical documentation for the second part of the road ring to Bosnia and Herzegovina, from Pozega to Kotroman, is being worked on.