Mihajlovic: Serbia's goal is to be in the top five countries in the world in terms of conducting business
Mon, 05-11-2020 - 16:29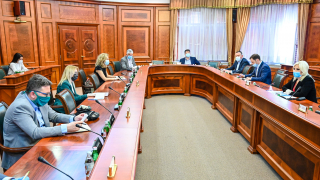 Deputy Prime Minister and Minister of Construction, Transport and Infrastructure, Prof. Zorana Mihajlovic phD, held a meeting today of the Joint Group for Improving the Position of Serbia on the Doing Business List of the World Bank on business conditions.

At the meeting, which was attended, among other things, by the line ministers of finance and mining and energy, Sinisa Mali and Aleksandar Antic, they talked about further activities of Serbia to improve their position on this ranking list and stated that reforms implemented by our country so far , especially in the construction sector, by introducing electronic construction permits, by which we are already recognized in the world, have shown how important it is to continue the reform path.

"We have prepared an ambitious action plan for further improvement of Serbia's position on Doing Business list, which will be adopted by the Government of Serbia as soon as possible." Our goal is to reach the first five countries of the world in terms of business in the next few years. Despite the huge success in terms of issuing construction permits, we will continue to improve in this sector, I expect that in all other areas - from starting a business, electricity connection, cadastre, obtaining loans and others, we will make the necessary efforts and use the potential to make further progress," Mihajlovic pointed out.

All participants in the meeting expressed their readiness to implement the activities from the prepared action plan within their competencies.

The meeting was also attended by State Secretary at the Ministry of Economy, Dragan Stevanovic, Assistant Minister of Justice, Cedomir Backovic, directors of the Republic Geodetic Authority and the Business Registers Agency, Borko Draskovic and Milan Lucic, director of the Office for IT and e-government, Mihailo Jovanovic, and director of regulatory reform in NALED, Jelena Bojovic.