Mihajlovic: Smederevska Palanka - Velika Plana road will be reconstructed by November
Mon, 08-12-2019 - 14:31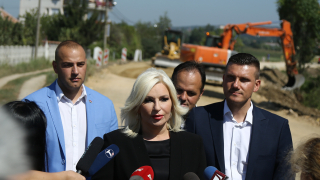 Deputy Prime Minister and Minister of Construction, Transport and Infrastructure, prof. Zorana Mihajlovic PhD., visited the reconstruction works on the state road Velika Plana - Smederevska Palanka and said that the state invests in roads in all parts of Serbia because the goal is to develop each district and municipality in Serbia.

"How much country invests in roads and rail is how much the country will develop, which is why we invest in highways, state roads as well as local roads. The basic thing for every municipality is to create the conditions for a normal life, which means that it has a good road, energy and communal infrastructure, that investments can come and that people stay here to live," Mihajlovic said.
She said that this road is important because of the connection to Corridor 10 and that work must be completed by November.

She added that about 1.4 billion dinars are invested in road maintenance in Danube region and around two billion dinars in rehabilitation together with the World Bank. "It is important that the roads are regulated, but it is also important that everyone obey the regulations and drive safely," she added.

Head of Podunavski Region, Nebojsa Pavlovic, said that one third of works on the reconstruction had been completed and that this would be one of the safest roads in the district. "This road is also the proof that the promises made are being fulfilled," he said.
Mayor of Smederevska Palanka, Nikola Vucen, thanked President of Serbia and the Government for doing everything possible to make this municipality faster and added that everything was agreed upon during the visit of the President of Serbia and the visit of the Deputy Prime Minister to Podunavski Region.

Mayor of Velika Plana, Igor Matkovic, said that for the first time citizens of this part of Serbia have the feeling that they have someone to contact and that someone cares for them.

Director General of PE Roads of Serbia, Zoran Drobnjak, said that the reconstruction was not done for 30 years and that it will now be solved thanks to the support of the President of Serbia and the Government of Serbia.

The value of works on the reconstruction of the section Velika Plana - Smederevska Palanka is 447 million dinars including VAT, and the contractor is the company "Srbijaautoput".