Mihajlovic: The state is standing together with its workers in communal activities  
Wed, 09-30-2020 - 12:33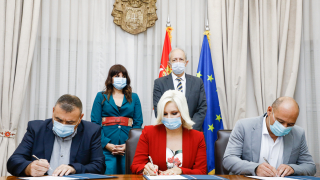 "My message to all employees in communal activities, and there are more than 60,000 of them, is that the state is with them, because we are aware of the importance of their work. I am glad that we signed an Annex to the collective agreement today, so we are one step closer to creating better conditions for utility workers, who take care of us 24 hours a day ", said today Deputy Prime Minister of Serbia and Minister of Construction, Transport and Infrastructure, prof. Zorana Mihajlovic, PhD, after signing Annex IV of the special collective agreement for public utilities.

Mihajlovic reminded that in 2015, a special collective agreement was signed for companies in the communal activity, which regulated this area after more than 20 years.

"Communal workers are just as important as health workers, and it is important that with this Annex we have ensured that they can receive 100 percent of their earnings if they get sick from corona virus. "I also hope that we will get into the situation as soon as possible not to apply the annex, that we will all stay alive and healthy and that the epidemic will end as soon as possible," she said.

In addition to the Deputy Prime Minister, the Annex to the agreement was signed by Aleksandar Radojevic, president of the Trade Union of Employees in Communal and Housing Industry of Serbia, and Milan Simic, president of the branch union of public transport and communal activities "Nezavisnost".

Aleksandar Radojevic said that as a Union, they recognized that many companies did not react in the right way during the epidemic, and that in this way they protected communal activities and workers.

"With this annex to the collective agreement, we have helped that workers who are in isolation or are infected with corona virus can be treated at home, with 100 percent of their income. Thanks to the relevant ministry for understanding and quick reaction, " said Radojevic.

Milan Simic thanked Deputy Prime Minister and the Ministry for the good cooperation, which is also shown in this Annex.

"Through the analysis we conducted, we determined that some employers do not respect the decisions of the Government during the epidemic. We contribute to the fact that employees do not have problems and that if they are isolated or infected, that it is respected. It is important that, in addition to the employees in health care, we also respect the employees in communal activities, who are on the streets every day and work," said Simic.