Mihajlovic: Supply of citizens a priority, 26,000 trucks entered Serbia
Wed, 03-25-2020 - 11:41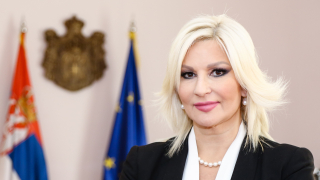 "All roads in Serbia are passable and this is now the most important things because of the supply of goods to Serbia, but also the flow of international transit through our country. Transport is vital and by this morning, at six o'clock in the territory of Serbia, 26,000 freight vehicles have entered, half of which are for the supply of our citizens," Deputy Prime Minister of the Republic of Serbia and Minister of Construction and Transport, Infrastructure, Zorana Mihajlovic said this morning for RTS.

She stressed that Serbia was the first to take all necessary measures and decisions in order for the transit to proceed smoothly, thus showing everyone that it has to function.

"Transit is important for all countries in the region - from Romania, Bulgaria, North Macedonia. Of course there are some losses, but the most important thing is to provide citizens with everything they need," she said.

Mihajlovic added that there are strict procedures and drivers are strictly controlled.

"All drivers are controlled by the border police, customs and sanitary inspection. Our drivers are in the truck to unload the goods, then go into isolation until the next trip. When it comes to transit, these trucks can stay for up to 12 hours in our country and drive in a police escort, "she said.

Deputy Prime Minister reminded that public health is paramount and that the state does everything to save lives and the country.

"The system works, all services work, citizens can give us the greatest help by staying at home," she concluded.