Mihajlovic: Thank you to the workers who worked even when we didn't know what the day and what the night will bring
Sat, 05-16-2020 - 16:31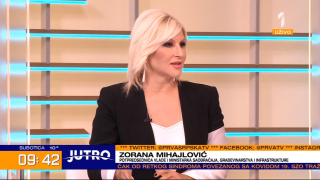 Deputy Prime Minister and Minister of Construction, Transport and Infrastructure, Prof. Zorana Mihajlovic PhD, said today that the largest construction sites in Serbia did not stop at all during the state of emergency, and that this industry will be very important for the economic recovery of the country.
"The largest construction sites in Serbia did not stop at any moment, about 2,500 people worked on them in the worst of moments. Yesterday, there were about 4,700 workers, and we expect that the full capacity of the 11 largest construction sites, construction of highways, high-speed railway line Belgrade-Budapest, rehabilitation of roads will be about 5,500 workers. Many thanks to all the construction workers who worked all the time and when it was not known what the day and what the night will bring ", said Mihajlovic as a guest on TV Prva.
She emphasized that construction contributed to economic growth in the previous year and that she believes that it will be the same this year as well. "That is why it is very important that our construction sites of the largest infrastructure projects did not stop, unlike some other countries in the region." Also, we must not forget that Serbia is a country that entered this crisis with a stable budget, and I believe that we will get out of it that way," she added.
She said that there are about 200 units of new mechanization that came from the region on the construction site of Morava Corridor, that there are currently about hundred workers on it, and up to three times more on working days. Also, as she said, highway Sremska Raca-Kuzmin is being built, as well as the highway and fast road Ruma-Sabac-Loznica. "We plan to start works on the first section of Nis-Merdare-Pristina highway, from Nis to Plocnik, in September, and we also plan to build fast roads throughout Serbia," said Mihajlovic.
She added that for the full effect of the built infrastructure, it is important that the procedures at the borders be more efficient and that for that reason, the initiative for the establishment of "green corridors" is important. "We managed to agree on a faster border crossing with Bosnia and Herzegovina, Northern Macedonia and Montenegro, and I believe that we will see results in the summer. It is much harder to agree on a quick transition with the countries that are members of the European Union, such as Croatia, Hungary, Romania, and we are trying to do that through the institutions of the European Union. As for the Serbian border police, it is really going as fast as possible, and we will insist that a fast crossing be an integral part of the infrastructure, because if we do not do that, we cannot go for faster with the economic development," said Mihajlovic.
She pointed out that the state will also help the national airline "Air Serbia", whose losses so far amount to more than 40 million euros. "Losses in Europe in air transport are more than 160 billion euros, many large companies are on the verge of bankruptcy. Our "Air Serbia" has losses of more than 40 million euros for now. However, our company is small, not indebted, has 20 planes and is flexible enough to adapt. The state is here to create the conditions for it to work, and we have seen in this crisis how much it meant that we have a national airline without which we would not have been able to transport a large number of our citizens or the medical equipment we needed. We think that it can make additional progress even now, and we will also discuss the purchase of new planes, because now is a good time for that," she stated.