Mihajlovic: There are no big or small roads, every village in Serbia must have decent living conditions
Mon, 08-12-2019 - 14:59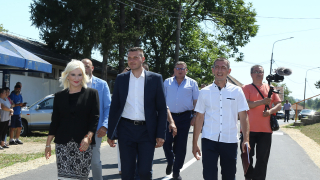 Deputy Prime Minister and Minister of Construction, Transport and Infrastructure, prof. Zorana Mihajlovic PhD., visited the village of Cerovac today which is in the municipality of Smederevska Palanka, where, in agreement with the leadership of Podunavski Region, a 3.5 km long local road has been restored.

"There is no small or big road for the Government of Serbia, nor for the President of Serbia, for whom there has not been a place that he has not visited and seen the situation in infrastructure. In addition to what we have already done, we will also make a list of local roads that will be worked on in the coming period, so that all citizens of Smederevska Palanka will have normal living conditions," Mihajlovic said.

Addressing the citizens of Cerovac, who greeted her while visiting the reconstructed road, she said that the roads and the railway show how much the authorities care about the citizens. "That is why we are visiting Serbia and what you see today is a sign that what we agree on in the future will be done. Every village must have decent living conditions, and it is certainly a good and safe way for people to stay in the countryside, because we do all this for our people," she said, adding that she hoped to visit Cerovac again, as next year marks it will be marking 200th anniversary of existence.
Acting president of Local community of Cerovac, Aleksandar Perisic, thanked President of Serbia and Deputy Prime Minister for the road through Cerovac and added that it is very important for the locals.

The principal of the local elementary school "Milija Rakic", Milos Marinkovic, thanked Deputy Prime Minister for coming to Cerovac in person, adding that it is not common for high-ranking state officials to come to this village.

Mayor of Smederevska Palanka, Nikola Vucen, said today's visit of Deputy Prime Minister Ms. Mihajlovic is a proof that what is agreed on gets fulfilled. "Smederevska Palanka has been forgotten by everyone for two decades, and in the coming period we will work to ensure a good life in the countryside as well.
Acting director General of PE "Roads of Serbia", Zoran Drobnjak, said that 3.5 kilometers of the state road going from Cerovac to Topola had been completed and that another 3.5 kilometers of that road would be done by September.

In the reconstruction of the local road through Cerovac, which was done for the first time since 1968, 30.6 million dinars have been invested.