Mihajlovic: There is no division, Roma are equal citizens of Serbia
Wed, 02-26-2020 - 15:02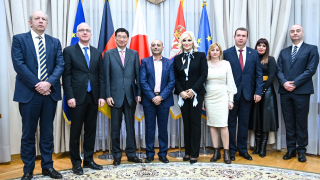 "The Government of Serbia and the Coordination Body for Monitoring the Social Inclusion of Roma in our country are committed to creating conditions for a better life for both the Roma community and all citizens, because our goal is for people to live better and stay in their places. It is important to understand that there is no division as to which nation we belong to, because we are all here together and we are all citizens of Serbia," said Deputy Prime Minister of Serbia, prof. Zorana Mihajlovic PhD, attending the signing of the Grant Agreement between the Government of Japan and Roma Association of Prokuplje for the "Project for Reconstruction of the Center for Returnees and Local Population in Prokuplje", worth six million dinars.

Mihajlovic thanked Japan and Germany, two countries that are always with Serbia, supporting us in the implementation of numerous projects, especially in areas that are often foreign, such as education, environmental protection, health and social care.

"I am delighted to have attended the signing of this contract today for the center, which will allow returnees to have better conditions for education and social protection. However, when it comes to the inclusion of Roma, there is still a lot of work to be done throughout Serbia and I believe that we will continue to cooperate successfully, "she said.

Japanese ambassador to Serbia Junichi Maruyama, as a signatory to the treaty, said that the country's government has been assisting Serbia since 1999 and that 228 projects have been implemented so far.

"We want to help reduce the economic gap and improve the living conditions of marginalized groups and people from rural areas. This project is the result of a joint initiative by Germany and Japan to raise the standard of living of local communities," he said.

Thomas Schieb, German ambassador to Serbia, said that the programs of Japan and Germany are very complementary and that, in line with the UN 2030 global goals, the aspiration is to leave no one behind and to strive to help Roma community in Serbia.

"The work to improve the position of marginalized population groups is our focus. We place particular emphasis on the education of Roma women but also in integrating them through employment, we are investing a lot in vocational training and career guidance," said Schieb.

The signing was also attended by the Mayor of Prokuplje, who emphasized that thanks to the policies of President Aleksandar Vucic and the Government of Serbia, today is a better place to live and that this project will contribute to empower Roma community in Prokuplje and return them to education as a key step towards employment.

On behalf of the Roma Association of Prokuplje, the agreement was signed by President Dejan Zivkovic, who emphasized that this center brings together citizens of this city regardless of nationality and will help to integrate returnees more easily into the local community.

The project, for which the Government of Japan provided € 51,208, is part of a joint initiative between Japan and Germany, which will revive the entire work of the Center for Returnees and Local People in Prokuplje.