Mihajlovic: Together with Turkey, we are building Belgrade-Sarajevo highway and Novi Pazar-Tutin road  
Mon, 06/10/2019 - 13:13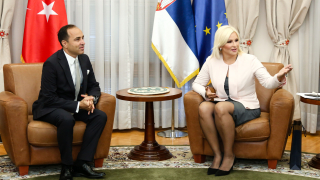 Deputy Prime Minister and Minister of Construction, Transport and Infrastructure, prof. Zorana Mihajlovic PhD., talked today with the Ambassador of the Republic of Turkey in Belgrade, Tanju Bilgic, on the cooperation of the two countries on infrastructure projects, and above all on the construction of Belgrade-Sarajevo highway.
 
"The project for the construction of Belgrade-Sarajevo highway is important for Serbia and the region, and our plan is that works on the first section, from Sremska Raca to Kuzmin, start this summer. We also expect that works will soon begin on the reconstruction of Novi Pazar - Tutin road, for which the project documentation ends, and it is expected that the Turkish side will soon approve a loan to finance the works, " Mihajlovic said.
 
Ambassador Bilgic stressed that Turkey, from its end, does everything to support the realization of the joint infrastructure projects.
 
The cooperation of the  two countries in the field of air traffic has also been discussed at the meeting.