Mihajlovic: Together with the unions we are working to create better conditions for 70,000 employees in utilities
Wed, 12-11-2019 - 15:09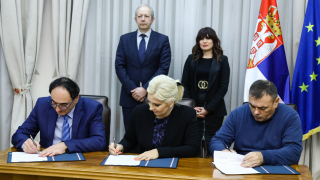 Deputy Prime Minister and Minister of Construction, Transport and Infrastructure, prof. Zorana Mihajlovic PhD, today signed the Annex of the Special Collective Agreement for Public Utilities with representatives of trade unions in this field.

"I am proud of the cooperation with the unions in utilities, such as good cooperation in other areas of the sector. More than 70,000 people work in utilities and we have to take care of each of them, " Mihajlovic said after signing the document with the Government of Serbia.
"We have shown that together we can come up with good solutions and improve the conditions for our employees. I believe that in the coming period we will be able to have even better conditions because there are opportunities for that," Mihajlovic added.

President of the Union of Employees in the Utilities and Housing Industry of Serbia, Milan Grujic, said that this is a small but significant step for the future when it comes to the standard of employees in the utilities industry and efficiency of utility companies. "The utility system was not designed to correct wages and thank you for signing this annex," Grujic added.
The president of the Branch Union of Public Transport and Utilities "Nezavisnost", Milan Simic, said that employees would receive a five to eight percent pay increase thanks to the signed annex and thanked Deputy Prime Minister and the Ministry's team for good cooperation.

Assistant Minister of Construction, Transport and Infrastructure, Jovanka Atanackovic, recalled that in 2015, after 20 years, a collective agreement for utilities was signed, which in 2018 was extended for the next three years.

"We have shown that we are on the right track and will continue to work together to improve the financial position of employees in utilities," Atanackovic said, adding that the annex regulates the increase of recourse to the amount of about 2,800 dinars a month.