Mihajlovic with trade unions on better working conditions on railways
Thu, 01-16-2020 - 15:07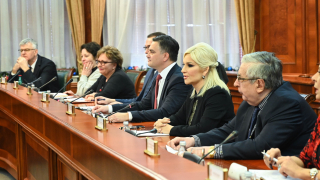 Deputy Prime Minister and Minister of Construction, Transport and Infrastructure, prof. Zorana Mihajlovic PhD, spoke today with representatives of Unions of four state railway companies on improving the working conditions and position of employees on the railway.

"Railway today cannot compare with railway five or six years ago, both in terms of how much is invested in the modernization of railways and trains, how efficient railway companies are, and this is something that distinguishes this Government from all previous ones. We want the railway to be even better and we must work together - the state, the management and the unions, which are our partner in everything that is done on the railway. It is important that we work together to solve the workforce problem, because it is not enough to have reconstructed railway lines and new trains if we do not have people, because the heart of the railway is its employees," Mihajlovic said.
 
The main topics of the meeting were the improvement of the financial position of the employees on the railway, through the subsequent changes of the collective agreement, improvement of working conditions and solving the problem of labor shortages in certain profiles on the railway.
In addition to union representatives, the meeting was also attended by general directors of "Serbia Train" Jugoslav Jovic, "Serbia Cargo" Dusan Garibovic and "Serbian Railways" Goran Adzic, as well as Deputy Director of "Infrastructure of Serbian Railways" Milan Maksimovic.