Mihajlovic: Transportation losses amount to 120 million euros, estimated 600 million euros by the end of the year
Wed, 03-25-2020 - 11:35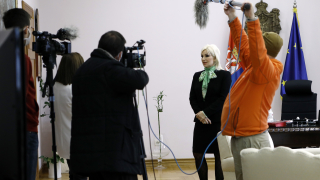 "At the moment, the most important thing is public health and to protect citizens and the country. Government of the Republic of Serbia, together with President Aleksandar Vucic, will be actively involved in the economic and financial consequences of the program of economic measures in order to get through the most difficult problems," said Deputy Prime Minister and Minister of Construction, Transport and Infrastructure, prof. Zorana Mihajlovic PhD.

She said for RTS morning program that, at the moment, it is estimated that transport losses amount to around EUR 120 million, with air transport accounting for the largest losses.

"Air transport certainly suffers the greatest losses. At Nikola Tesla Airport on March 22th last year there were 14,500 passengers, this year on the same day 71 passengers. Losses are recorded by all other modes of transport, from water to rail. Estimates are that by the end of the year, transportation losses will be around 600 million euros," Mihajlovic said.

Deputy Prime Minister added that the state was doing everything we could to get by with as few consequences as possible, and that the system and all services were functioning.