Mihajlovic on Turk Stream: Serbia needs energy gas stability
Thu, 01-09-2020 - 10:47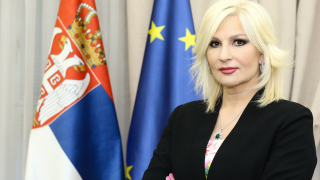 "Serbia needs energy gas stability if we are to further develop economically. We have built a base that we need from 400 kilometers and it is less important whether everything will be completed in May or December, it is important that we have gas by the end of 2020," said Deputy Prime Minister and Minister of Construction, Transport and Infrastructure today, prof. Zorana Mihajlovic PhD.

She said in the morning program of TV Prva that it is absolutely certain that Turk Stream will be built and that it is also in Bulgaria's interest to finish its construction.

"Things have already been agreed on, it is too late for any pressure and Turk Stream cannot be compared to the former so-called South Stream, which had many problems in the beginning. It is in the interest of all of us to build it," concluded Mihajlovic.