Mihajlovic with the Union of Utility Services
Wed, 05-15-2019 - 16:38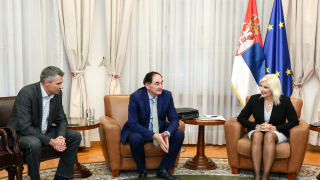 Deputy Prime Minister and Minister of Construction, Transport and Infrastructure, prof. Zorana Mihajlovic PhD, has welcomed a delegation of the Union of Housing and Utilities Employees of Serbia today, led by President Milan Grujic, and discussed with them the joint cooperation on improving the work in communal activities.

"The union of communal and residential activities is our reliable and good social partner. The Ministry I run is open to all questions and suggestions, I believe that by cooperating we can contribute not only to the successful implementation of the Law on utility activities, but also to better conditions for the work of employees in this field and improvement of utility services for the benefit of our citizens, "Mihajlovic said.
 
Milan Grujic thanked Deputy Prime Minister, Ms. Mihajlovic, for her dedication to this topic and expressed his interest for further support of municipal workers.

"It is of general interest that the utility service is the best possible, in this regard, please consider the possibility of forming an inter-ministerial commission to improve work in utility companies, as well as signing the expanded act of the Special Collective Agreement for public enterprises in this field," he said.

At the meeting, it was agreed to send an initiative to the Government of Serbia for the establishment of an inter-ministerial commission for the improvement of the work of communal activities, as well as the initiative for the establishment of the Day of Communal Activities.