Mihajlovic: The value of the projects that connect Serbia with the region is 13 billion euros
Mon, 09-28-2020 - 15:16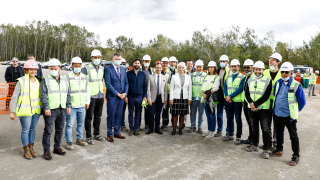 Deputy Prime Minister and Minister of Construction, Transport and Infrastructure, prof. Zorana Mihajlovic, PhD, visited today with Vojin Mitrovic, Minister of Communications and Transport of BiH, and Djordje Popovic, Minister of Transport and Communications of Republika Srpska, the works on the construction of the highway Sremska Raca - Kuzmin, the section of the bridge over Sava. Turkish Ambassador to Serbia, Tanju Bilgic, also attended the sight visit of works.

Mihajlovic said it was important for citizens to know how much we were working on regional connectivity, and that this was not just a matter of building a highway and a bridge, but also integrated border crossings that would contribute to faster movement of people and goods, lower transport costs and shorter border waiting.

"It is important that we connect as a region, because that means better living conditions for our citizens, to stay and live in these parts of Serbia. Serbia participates with 13 billion euros in infrastructure projects that connect us with the region, whether it is BiH, Montenegro, Hungary, Macedonia or Albania. We have set aside 220 million euros for this highway and the bridge, and I believe that the bridge will be completed in two and a half years, as the contractor promises," she said.

Mihajlovic reminded that the beginning of works on the bridge last year was marked by the presidents of Serbia and Turkey, Aleksandar Vucic and Tayip Erdogan, as another sign of good relations between the two countries and the two presidents.

"Many were sceptical, but everything we started to build and finish, we showed. In addition to this section, we will connect with BiH via Pozega-Kotroman highway, where we will also have one border crossing. "Along with the integrated border crossings on Bratoljub, this bridge and Kotroman, it is estimated that transport costs will be reduced by 25 percent," announced Mihajlovic.

Vojin Mitrovic said that this bridge and the highway connect Serbia, Republika Srpska and BiH and mean a lot for the people of Srem and Semberija, but also for the two countries.

"Time will tell how important this highway is. We are creating pre-conditions for better development and life of citizens on both sides of the river. These bridges connect nations, but also economies as important factors in the development of our countries. Thanks to Deputy Prime Minister Mihajlovic and President Vucic for recognizing the importance of this project," said Mitrovic.

Minister Djordje Popovic thanked Deputy Prime Minister for the support in the realization of this project, and emphasized that the works are proceeding according to the agreed dynamics.

"We should not waste words on the importance of the bridge, it has always connected Serbia, Republika Srpska and BiH. We have completed the expropriation process and planning documents, which are necessary conditions for the construction of the highway section on our side. "Raca will no longer be a bottleneck or an obstacle in good relations between the two countries," he said.

Ambassador Bilgic said that we do not have time to waste and that the works are being performed by a serious Turkish company.

"Together we have invested a lot of effort to make the project a success, with the great support of the Government of Serbia, I am sure that the project will be completed on time," said Bilgic.

On behalf of the contractor, company "Tasyapi", the vice president of the company, Emre Tokmak, addressed and said that this bridge connects the two nations.

"As a contractor, we will fulfill all obligations according to the plan, we feel responsibility towards our country, Turkey, as well as towards Serbia and BiH," he said.