Mihajlovic: Violence by Radical Party in the Parliament was organized and intentional!
Fri, 01-31-2020 - 09:00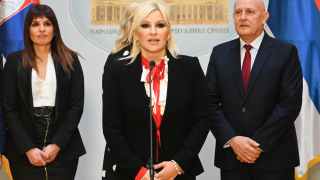 Deputy Prime Minister and Minister of Construction, Transport and Infrastructure, prof. Zorana Mihajlovic PhD, stated that she had no dilemma that the violence of the Serbian Radical Party NEs against her in the Parliament yesterday was organized and intentional.

"What we saw in the Parliament yesterday was planned radical violence directed against me. Because of their lies, insults and curses, the Assembly looked more like a street, which is unfortunate because it is the most important institution of the country. I have always fought against violence and I always will, and I do not agree that Serbia is what radicals are, "Mihajlovic said in a guest appearance on TV morning of TV PRVA.

She explained that out of a total of 236 amendments, Radicals submitted 210 amendments that make no sense, which only read "to be erased".
"Not even a word about laws, just "erase" ! But it gave them the opportunity to come forward 210 times and to repeat the most outrageous lies about me and my family for five hours. Saying that I am a spy, a criminal, that I stole money with the US ambassador, what kind of socks I wear, what shoes I have, to attack my family. After five hours of radical lies, I had my own five minutes of truth, when I killed everything they said. Not because of them, but because of the citizens of Serbia who were watching. And in such situations, I will always raise the banner "Radical Lies", "she said.

Deputy Prime Minister also points out that she was embarrassed by all the insults and curses that were sent to her by the national envoys of the Radical Party.

"All these radical lies, insults and curses spoken by MPs of this party, I cannot repeat, and it was a shame for them to listen to anything like that. violence, "she said.
Mihajlovic also said that Radicals by attacking the Government and its results are trying to gain some percentage in the next elections.

"I also want to thank the SNS NEs who entered into a controversy with the radicals yesterday and defended me and the ministry against all radical lies," Mihajlovic added.
She added that she is personally targeted by the radicals because she is not silent when it comes to all the insults she has received from their president, Vojislav Seselj, over the years.

"I suffer from their attacks because I call Seselj a 'jukebox duke', because I constantly remind the public that their politics have led to wars, disasters, people's suffering. Parliament is a place where discussions and dialogues must be conducted, but some borders must not be crossed. "Violence in Parliament is unacceptable. I have been fighting against it my whole life. What is next - for a national envoy to come to the minister and hit him!", Mihajlovic said.