Mihajlovic visits the completed works on Corridor 11: All ready for the release for traffic on Sunday
Tue, 08-13-2019 - 12:06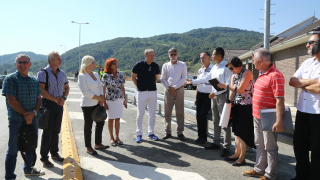 Deputy Prime Minister and Minister of Construction, Transport and Infrastructure, prof. Zorana Mihajlovic PhD., visited today the route of Corridor 11 from Obrenovac to Ljig to make sure that everything would be ready for the opening of the section on Sunday.

On this occasion, she met with representatives of the contractors in this section, with whom she discussed the dynamics of completion of works.

Mihajlovic reiterated to all those involved in the construction of this highway how important the completion and release for traffic of Obrenovac - Cacak section is to Serbia.
"There is nothing better than building roads. Today, I am here to check on the progress of the works and to make sure everything is ready for the highway to be released on Sunday. The ministry is here, as before, to give you the support you need," she said.

Zhang Jianchao, General Manager of China's Shandong Branch for Serbia, briefed Deputy Prime Minister on the dynamics of works.

"As you could see when passing the route, all the work is in its final stages. We are working on fencing, sound walls and horizontal signage. At the same time work is done on mowing the grass and cleaning the route. Dear Deputy Prime Minister, I can assure you that everything will be ready for traffic even before Sunday," Jianchao said.

Obrenovac - Preljina section is 103 km long and will be officially released for traffic in the presence of the President of the Republic of Serbia, Aleksandar Vucic, on Sunday, August 18th.