Mihajlovic visits works on Belgrade-Budapest railway: We are building European railway corridor with China and Russia
Fri, 06/07/2019 - 15:13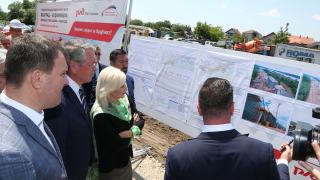 Deputy Prime Minister and Minister of Construction, Transport and Infrastructure, prof. Zorana Mihajlovic PhD., visited works today on the modernization of Belgrade-Budapest railroad near Indjija, where the Russian company "RZD International" is working, where the first 17 kilometers of the new railway line was set up for speeds of up to 200 km / h.
 
"These railroads are not just rails and thresholds - it is an indicator of our policy in infrastructure and transport. We build this railway line which is part of the Chinese global project "Belt and Road" with "Russian Railways", and it will be a European corridor that connects the Central with Southern Europe and is built according to European standards, " Mihajlovic said.
Together with the Deputy Prime Minister, the construction of this railway line was visited by the Ambassador of the Russian Federation to Serbia H.E. Aleksandar Chepurin and the Prime Minister of Vojvodina Igor Mirovic.
 
Mihajlovic expressed great satisfaction with the works of the "Russian Railways" on this section from Stara Pazova to Novi Sad, and stressed that it is important for Serbia to have modern roads and railways and that the best companies work on them.

"The development of the railway is our priority, we have reconstructed almost 500 km of regional railways, and we invest almost two billion euros in the fast railway track between Belgrade and Budapest. I expect that next year we will begin the construction of the third section, from Novi Sad to Subotica, "she said.
Prime Minister of Vojvodina Igor Mirovic thanked the Government of the Republic of Serbia, especially Deputy Prime Minister Ms Mihajlovic for the enormous commitment to this project, saying that it is extremely important for Vojvodina.

"We will connect Novi Sad with Belgrade, by the end of 2021 we will travel for more than half an hour. And then with Subotica, continuing to Europe. This project is important because we will connect to the fast railway track system in Europe, which will lead us to further economic development, "Mirovic said.
 
Ambassador Chepurin stressed that the economic relations of the two countries have been developing very positively in the last couple of years, but that there is still much space and potential for cooperation.

"The development of transport and infrastructure, the construction of roads and railways are an important condition for the development of economic relations between Russia and Serbia. And this is why this project is significant. I hope that we will continue the successful cooperation, because this is in the interest of both countries, " said Chepurin.
Guests were informed on the way and the quality of the works preformed, as well as what else is left to be done, by the deputy director of the Russian Railways company RZD International Mansurbek Sultanov and Acting General Manager of "Infrastructure of the Railways of Serbia" Miroljub Jevtic.