Mihajlovic in Vranje: Apartments for army and police force in March, another 32 million for infrastructure projects
Tue, 02-11-2020 - 08:06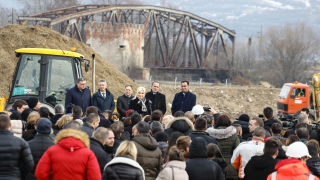 Deputy Prime Minister and Minister of Construction, Transport and Infrastructure, prof. Zorana Mihajlovic, PhD, visited today the final works on the construction of apartments for the security forces and attended the beginning of works on the construction of waste water treatment plants in Vranje.

She stressed that € 32 million is being invested in municipal infrastructure in Vranje, which will be completed by the end of 2021, and that includes projects for water supply, wastewater treatment plants and solid waste management.

"Vranje has its own highway, completes its communal infrastructure, is the first city to prepare everything necessary for the construction of apartments and will be the first city to hand over the keys to the apartments to the security services. Vranje is a city that should serve as an example of how everything can work. Long live and be healthy, "Mihajlovic said.

Prior to marking the start of construction works for the wastewater treatment plant, Mihajlovic visited the final works on the construction of apartments for members of the security services.

"A year ago, there was nothing here. We are now completing 186 apartments and will hand over the first keys at the end of March. Vranje is the first city in infrastructure," she said.