Mihajlovic: We are building a highway so that people can stay here and live
Sat, 05-18-2019 - 22:22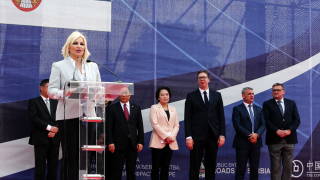 Deputy Prime Minister and Minister of Construction, Transport and Infrastructure, prof. Zorana Mihajlovic PhD., today, together with the President of the Republic, Aleksandar Vucic, began the construction of Preljina-Pozega section of the E-763 motorway and declared that there were no cities that did not develop as the highways are built.
"In the past few years, 300 km of highways have been built, and as on Corridor 10 there are factories and plants, so are they here too.  The road that we build today serves people, they stay to live and work in Cacak and Lucani, because Serbia is the most beautiful country. Let us happily start the work and be proud of every meter we will build, "said Mihajlovic.
Deputy Prime Minister thanked PR China for being part of the global project "One Belt, One Road", reminding that Serbia is one of the first countries to join this initiative.
Serbian President Aleksandar Vucic said that Central and Western Serbia have been waiting for 70 years for more serious changes to happen and that after seven decades of waiting, finally, highways were actually built and the construction of new ones began.
"For St. Nicholas we will travel from Belgrade to Cacak in an hour, and already for Vidovdan we will open a section from Obrenovac to Cacak. And that's not all, because we are starting to build the hardest section that will have 12 km of tunnels and several bridges. Cacak is a hub in this part of Serbia and will be connected via new highways with Montenegro and Bosnia and Herzegovina, but also with Belgrade. We are also starting a construction of Moravian Corridor this summer from Preljina to Pojate, "Vucic said.
The president added that highways are not an end in themselves, but they bring life to villages and cities as investors do not come where there are no roads, and where investments come to open new jobs and create a better future for our children.
The mayor of Cacak, Milun Todorovic, pointed out that this is a great day for Western Serbia, the Moravian region and the city of Cacak, saying that the citizens of this part of Serbia, after decades of waiting, have settled their dreams.
"Thank you to President Aleksandar Vucic because he recognized the importance of Western Serbia, we support him for further development of our country and connection with the world," he said.
Ambassador of the People's Republic of China in Serbia, Ms. Chen Bo said that the two presidents at the recent "Belt and Road Summit" reached agreements for further joint development and prosperity and sent a special message to the citizens of Cacak.
"We know the importance of this highway for you, I am convinced that CCCC will do everything to build the most modern highway in your city, with your support," she said.
Song Hailiang, the president of the company's "China Communications Construction Company" (CCCC), thanked the Serbian government for the support and confidence that they are the ones building the highway from Preljina to Pozega.
"We are building in 157 countries in the world, in Serbia we built the Zemun-Borca bridge, and we also build a highway from Surcin to Obrenovac. Be sure that in a quality and timely manner, in the planned time, we will build the path of cooperation and prosperity of the two countries, " he said.