Mihajlovic: We are negotiating the construction of the last section of the bypass around Belgrade
Mon, 09-21-2020 - 09:45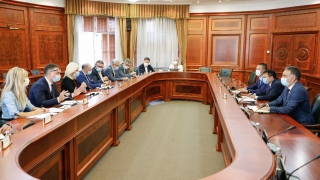 Deputy Prime Minister and Minister of Construction, Transport and Infrastructure, prof. Zorana Mihajlovic PhD, held a meeting today with the General Director of the Chinese company "Power China", Yang Bo, and the Director of the Azerbaijani company "Azvirt" Ahmet Murat Turkoglu on the continuation of the construction of the bypass around Belgrade from Bubanj Potok to Pancevo (sector C).

Mihajlovic pointed out that the plan is to start the construction of the last section after the completion of the works on the construction of sector B, which will contribute to the completion of the road-railway bypass around Belgrade.

"This is a very important project for the country, which we have been waiting for for decades. The completion of the bypass implies the relocation of freight traffic from the city center, the improvement of traffic safety, as well as further economic growth due to the development of new industrial zones in the bypass zone. "I expect that the negotiations regarding the technical solution and the value of the project will be closed as soon as possible, and that a commercial contract will be signed," she said.

The directors of "Power China" and "Azvirt" pointed out their readiness to continue cooperation on the construction of sector C of the bypass, as well as to bring the price negotiations to an end.

The meeting was also attended by the directors of "Roads of Serbia" and "Infrastructure of Serbian Railways", the director of the Public Debt Administration, representatives of the PE "Corridors of Serbia", as well as the economic advisor at the Embassy of the People's Republic of China in Serbia.