Mihajlovic: We are opening "Morava" Airport on Vidovdan (June 28th)
Fri, 06-21-2019 - 07:45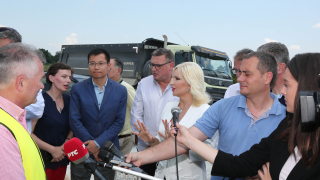 Deputy Prime Minister and Minister of Construction, Transport and Infrastructure, prof. Zorana Mihajlovic PhD., said today that on June 28th, Morava Airport, near Kraljevo will be open to civil air traffic.

"Morava Airport will operate from Vidovdan as a civil-military airport, and I am very proud of that because of the position of this airport since it can be significant for cargo traffic in this part of Europe. Moravian Corridor, which is starting to be built right next to the airport, will continue to be built this year, and when this is added to the railways, there is no better thing in this part of Serbia when considering logistics, "Mihajlovic said answering the questions of journalists during a visit to Corridor 11 .

She added that it is precisely because of the prospects for the development of cargo traffic that it is planned to expand the runway, and that it is very important that besides Belgrade and Nis, this part of Serbia has its own airport.

"The airport will work according to how airplanes are flying. There are no regular flights at this moment, but there are talks with companies that want to fly from "Morava", both passenger and cargo traffic, " added Mihajlovic.