Mihajlovic: We built a magnificent highway, we expect more traffic and new factories
Fri, 05-17-2019 - 21:52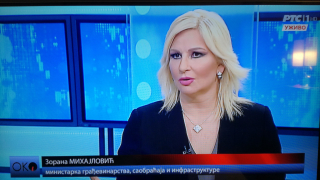 Deputy Prime Minister and Minister of Construction, Transport and Infrastructure, prof. Zorana Mihajlovic PhD, said on the show "About the Economy" on RTS, that a magnificent highway through Grdelica Gorge will be released for traffic tomorrow, and that the effects of its construction will be faster transport, new factories and that people in that part of Serbia will stay.
 
"The corridor we have completed is the shortest route that connects different parts of Europe, and for Serbia it means a lot, both because of the transit traffic that is already coming back, but also because of everything that comes with the highway. Our experience, after 300 kilometers of paved highways in the past four years, is that dozens of new factories and plants have been tilted along the highway and that is what we expect with new sections on Corridor 10 and Corridor 11 that we are releasing for traffic, " said Mihajlovic.
She added that during summer the entire Eastern Fork of the Corridor 10 will be completed, and on several critical points it is currently still being worked on. By the end of June, the Eastern Fork will be released for traffic and 103 kilometers of the highway from Obrenovac to Cacak. "Today we started works on the section Preljina-Pozega, worth almost 500 million euros, with which Cacak and all of Serbia become a kind of transit corridor. From Pozega, one of the forks of highway will go towards Montenegro and the Adriatic Sea, the other to Bosnia and Herzegovina. On the other hand, in Cacak, Corridor 11 will connect with Corridor 10 through the Moravian Corridor, which we are also starting to build this summer, " said Mihajlovic. On the other hand, in Cacak, Corridor 11 will connect with Corridor 10 through the Moravian Corridor, which we are also starting to build on a summer basis, "said Mihajlovic.
 
She stressed that sections through Grdelica gorge were extremely difficult to construct, because, among other things, the riverbed and railroads on the Corridor 10 were displaced, and more than 650,000 cubic meters of stone were removed from Momin Kamen, which amounts to 62,000 trucks in order for stone to be transported. "It is certain that when the highway is released for traffic, we will still be able to analyze everything that has been done, so that some mistakes do not repeat in future projects," she added.
 Head of "South Project" in "Corridors of Serbia", Leonid Vukovic, said that the biggest challenge in the construction of the highway through the Grdelica gorge were landslides, especially on slopes 3 and 5, which went up to 45 meters below the terrain. "All participants in the project agree that all constructions are absolutely safe and that the highway is safe for traffic. In the coming months, an additional stabilization of the slopes and landslides will be done, which will not affect the traffic, but it is significant for the long-term stability of these facilities, "Vukovic said. He added that it is an honor for every engineer to be part of such a big project and that it is a great experience that will be of a great use for future projects. 
Dubravka Negre, EIB Regional Director for the Western Balkans, said that since 1977, EIB has financed the construction of highways through Serbia, from Brotherhood and Unity Road (Bratstvo i Jedinstvo), to the bypass around Belgrade and the southern border of Corridor 10. "Before the decision to grant the loan in 2009 was made, economic and technical assessments were made and we came to the conclusion that from the tolling two-thirds of the investment can be paid within 30-35 years and cover the maintenance costs, which is quite acceptable for such a project. The economic benefits are much higher due to the development of that part of Serbia, traffic safety, faster transport, because Corridor 10 is the fastest route connecting central and southern Europe, " Negre said.