Mihajlovic: We take care of all our citizens, sending planes to bring them back to Serbia
Tue, 03-24-2020 - 08:10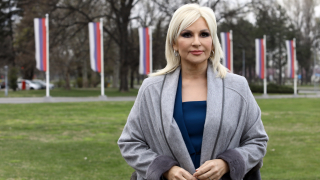 "Government of Serbia, together with the president, is doing everything it can to help our citizens who have found themselves at other airports and countries. It's not simple and easy, we are working on it 24 hours, but we're slowly managing to get them back to our country. So for our people who came to Havana from various flights, for example, we arranged to get to Moscow, where we sent an Air Serbia plane for them. This is not the only flight, there are more, we care about our citizens on the territory of all countries," said Deputy Prime Minister of Serbia and Minister of Transport and Infrastructure Construction, prof. Zorana Mihajlovic PhD.

Mihajlovic reminded that airports in Serbia are closed for international passenger traffic, but that they operate for cargo and humanitarian flights.

Asked to comment on the situation in the field of transport, Mihajlovic said that since March 13th, over 20,000 freight vehicles have entered Serbia, one half for our purposes and the other for transit.

"Transport is a vital part of every society, it goes smoothly, everything we need to come to Serbia every day, because the care for our citizens is paramount. Water freight transport is also underway and this is significant, not only for transit, but for the needs of our country, "she said.

Deputy Prime Minister once again urged all citizens to abide by the recommendations of the Ministry of Health and healthcare professionals to stay at their homes.

"The most important thing is to listen and respect all the recommendations of the Ministry of Health and doctors, as well as Government's decisions, because it is for our own benefit, for the benefit of our families and all citizens - to stay at home and save every life," she concluded.