Mihajloviceva: Highway through Grdelica to the pride of Serbia, we have finished the biggest project
Sat, 05-18-2019 - 23:05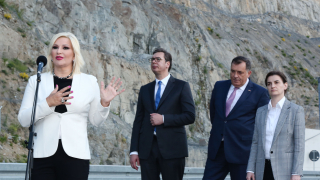 Deputy Prime Minister and Minister of Construction, Transport and Infrastructure, prof. Zorana Mihajlovic PhD, said that the launch of the entire Southern fork of Corridor 10 is the victory of the construction workers who built a modern highway on the toughest construction site in Europe, but also the victory of Serbia, which ends its largest infrastructure project.
 
"Today, Serbia should be proud, and our construction workers, who built a magnificent highway on the most beautiful and difficult part in Europe, but also all of our citizens, because there is no more important road for Serbia than Corridor 10. We managed to finish the biggest project in the country, which has been worked on for 30 years, and without which neither the region nor Europe could have been fully connected. With the end of Corridor 10, from Horgos to Presevo, we have opened a new page and we are no longer looking back, but only ahead, towards new projects, towards connectivity, faster development and better life for our citizens, "Mihajlovic said.
Deputy Prime Minister, together with Serbian President Aleksandar Vucic, Prime Minister Ana Brnabic and members of the Government, representatives of contractors and financiers of construction of Corridor 10, diplomatic corps and high officials from the country and abroad, visited the entire route of the highway through Grdelica Gorge, which was released tonight for traffic.
 
Addressing the representatives of the construction workers, alpinists who worked on the construction and journalists, Mihajlovic said that it was one of the most beautiful and difficult points on the route through Grdelica Gorge.
"To be able to pass through this section today, huge work of miners and alpinists was involved who had removed a large part of this hill which is was over 110 meters, with more than 100 mines and 100 tons of explosives consumed. More than 650,000 cubic meters of stone has been removed from here, 65,000 trucks loaded with stones have been transported, which if we sorted in the column, its beginning would be on Horgos and the end in Presevo and some kilometer further, " Mihajlovic said, and thanked President of Serbia and the Government of Serbia for their support for the construction of the highway through Grdelica and the readiness to help solve the problem.
 
She added that everything on this site will enter books, perhaps even legends, like those that already exist on this site.
"There is no army that has not passed through here, this is a place of great love and misfortune. The stone on which we stand today is also located at the military cemetery of our Thessaloniki solders on Zejtinlik. Once upon a time, there was a wall in this place, a stone statue of a girl with a basket, Moma, who died here due to unfortunate love. This history that we are writing today and which will remain behind us is a story of brave and capable builders who built a state-of-the-art highway through Momin Kamen called "The evil valley" and "Balkan beauty", and we should be proud of that ", said Mihajlovic.
 
Highway through Grdelica gorge in numbers:
 
• 26.34 kilometers of total length of the highway
• 210,868 tons of asphalt was embedded in this highway
• 654,000 cubic meters of stone were removed from Momin kamen in Grdelica gorge
• 36 bridges were built on this section
• 15,146 m built-up support walls
• 7,500 m total length of built slopes
• 6,347 m of river regulation
• 5,798 m length of all bridges on this section
• 2,949 meters of length of Predejane and Manajle tunnel and gallery
• 1,808 meters long is the longest road tunnel in Serbia, tunnel Manajle
• 1,500 meters of a completely new railway line through Grdelica gorge
• 800 meters of newly built main road
• 645 meters long length of the longest bridge Vrla
• 62 meters height of the highest pillar on Vrla bridge
• 2 new loops, Predejane and Vladicin Han