Mihajlovićeva: Joint holiday of Serbia and RS important because of identity and history, projects we are working on important for the future
Wed, 09-16-2020 - 11:36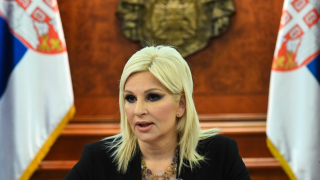 Deputy Prime Minister and Minister of Construction, Transport and Infrastructure, prof. Zorana Mihajlovic, PhD, congratulated the Day of Serbian Unity, Freedom and National Flag and stressed that the joint holiday of the Republic of Serbia and the Republic of Srpska is important for the history and preservation of the identity of Serbian people, and believes that in the coming period there will be more joint projects benefiting the whole region.

"The joint holiday of Serbia and Republika Srpska, which we are celebrating for the first time this year, is important because of everything we as a nation have gone through in history, to be proud of our fight for freedom, our culture and identity that we should preserve and pass on to future generations." But, it is important that we work together on projects that are important for connecting Serbian people and that will contribute to faster development and a better future in the entire region," says Mihajlovic.

"Serbia is already building the first section of Belgrade-Sarajevo highway, from Sremska Raca to Kuzmin, which connects us with Republika Srpska, and the continuation of this highway, the section from Bijeljina to Raca, will be built as a joint project. We have built a new bridge Ljubovija-Bratunac, which will mean a lot to people on both sides of Drina, and which is important because of the common border crossing. We will also build the airport in Trebinje together, which will be the first such project in air traffic in the region," she states.