National envoys of SRP after many insults, physically assaulted Deputy Prime Minister, Zorana Mihajlovic, in the National Assembly
Thu, 01-30-2020 - 09:53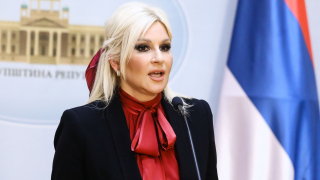 Deputy Prime Minister and Minister of Construction, Transport and Infrastructure, prof. Zorana Mihajlovic PhD, said today, on the occasion of the attack by Serbian Radical Party (SRS) on her in Parliament, that the whole Serbia today could see the violence of this party's national envoys against her.

During the National Assembly session, which discussed amendments to the proposed legislation, Deputy Prime Minister was exposed throughout the debate to the worst insults by the Radical Party. Three SRS national envoys – Vjerica Radeta, Filip Stojanovic and Ruzica Nikolic - in the National Assembly hall even physically assaulted Mihajlovic.
"For three hours I listened to SRP NEs telling lies about me, without even talking about the laws on the agenda. When I took the floor and said that what they said was a lie, because I have to say it because of the citizens of Serbia, I was exposed to classical violence, in the middle of Parliament. I don't know what else needs to happen to someone to say that what happened today is a classic form of violence. But I have been fighting violence all my life, so I will also fight what SRP national envoys do," Mihajlovic told reporters in Parliament.

Responding to a series of insults to SRP envoys, Mihajlovic said that everything they said about her private life as well as her career was a huge lie and at the end of her presentation she raised the banner titled "RADICAL LIES" after repeated attacks by SRP envoys.
"You were lying when you said I stole € 300 million from Morava Corridor because there was never any offer, contract or agreement with a Chinese company that they could build that highway for € 500 million, but there is an answer that they cannot build it for that money. You also lied saying I am a spy, American and British, and have been listening to you saying it for years. There are institutions for that, so try to prove it! You also lied that I had to do with the allegations being charged to the director of Infrastructure of Serbian Railways, although it is known that his lawyer also made it clear that I had nothing to do with it. I am not wanted by any court, nor by any of my family members, and they are looking for you," Mihajlovic said.

She emphasized that all lies of SRP NEs cannot erase by any kilometer of the road that was built, and more than 350 kilometers of highways were built in her office, as well as no kilometers of reconstructed railway lines, and more than 500 km were reconstructed in the previous four years".

"Because of the people who voted for you, I had an obligation to point out all the lies you have been saying for days, months and years. Your results at the elections are manifestation of the way you talk," Mihajlovic said.