Adaptation of Iron Gate 1 Navigational Lock Project "Djerdap 1"
Mon, 02/04/2019 - 13:25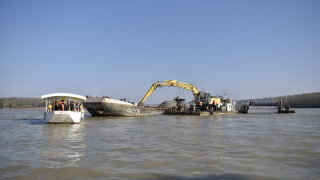 Investor:
Ministry of construction, transport and infrastructure 
Project value:
28,5 million EUR
Financing:
40% of the project is financed from the funds of Connecting Europe Facility (CEF), while the remaining 60% will be provided from the Framework Loan for the development of river transport infrastructure projects with the EIB, which is expected by September 2018.
Project designer:
Energoproject-Hydroengineering joint-stock company Belgrade
Contractor:
Consortium DSD Gmbh, "Feromont" l.l.c. and "Elektromontaza" l.l.c.
Supervision: 
The tender procedure is in progress, the conclusion of the contract is expected in March 2019
Project significance:
The project will considerably increase the functionality of the vessel lock in terms of shortening the time needed for the implementation of the ship's translation operation, which will have positive effects on the overall navigation on the Danube, as well as on the development of industry and economy in the region. The project includes the replacement of electrohydraulic and hydro mechanical equipment, the reconstruction of the control tower, as well as the dredging of the access waterways within the prefixes of this lock.      
Status of the project:
The selected contractor is due to prepare the Project for construction by August 2019, so that Iron Gate 1 Navigational Lock could be closed from September 2019 for the beginning of the works.
Beginning of the project:
January 2019
End of the project:
December 2020