Construction of atmospheric and vacuum sewage in Mali Krivak
Mon, 02-04-2019 - 12:11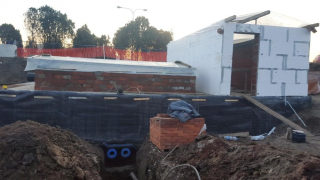 Grant Coordinator: City of Smederevo
Total project value:
1,198,496 EUR, from which EU and Ministry of construction, transport and infrastructure 1,000,000 EUR
Value: 128.141.458,81 RSD
Contractor: Telecommunications l.l.c., Blace
Timeframe:
Construction of vacuum sewage: works began in August 2018. The deadline for the execution of the works is ending in May 2019 (the request for extending the grant project is currently under way for four months until 5 June 2019).
Status of works:
-        Installation of vacuum sewage pumps: The station for the vacuum pump has been built. Pumps for vacuum sewage are delivered. Due to unfavorable weather conditions, the installation of the pumps is delayed (until next week).

Construction of vacuum sewage: construction is in progress. Several outstanding issues arose in the execution process. Due to incomplete technical documentation it is necessary to align it. In several places the sewage route is changed and it is necessary to provide the consent of the parcel owner. Due to the provision of adequate electricity voltage, the city of Smederevo will build a transformer station at its own expense by March 2019 at the latest. A meeting of representatives of the technical assistance of Roma Housing and representatives of the City was planned on Friday, 18 January 2019.