Construction of Sector B Bypass around Belgrade
Mon, 02-04-2019 - 11:17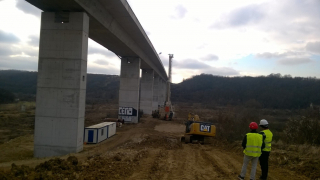 Investor: 
PC "Roads of Serbia"
Contractor: 
Institut for roads l.l.c.
Investment value:
 207 million euros
Strategic and Legal Framework:

Spatial plan of the Republic of Serbia until 2020
General plan of the city of Belgrade until 2021 
Significance of the project:

Belgrade is on the route of road and rail Corridor X, as well as water corridor VII. The construction of the Bypass is crucial for solving the problem of transit traffic. The planned circle ring around the capital should connect highways for: Subotica, Zagreb, South Adriatic, Nis and Vrsac. A special problem for Belgrade is the road transport in the direction of Banat across Pančevo road-rail bridge on Danube. Road transit passenger and freight traffic takes place through busy city streets. Due to these problems, according to the Spatial Plan of the Republic of Serbia until 2020, the General Plan of the City of Belgrade in 2021, it is planned to complete the part of the bypass around Belgrade (sectors B4, B5, B6) which is part of Corridor X.


Project status:

The commercial contract was signed on November 5, 2016. with the Chinese company "Sinohydro" worth 207 million euros.


Project description:

The total length of the section is 19.5 km. Out of main structures on the route, four tunnels, total lengths of 2760 m, 22 bridges (only one shorter than 50 m), total length of 5,307 meters, two loops and one node are distinguished.
The section is divided into three sectors:
Section 4, part of the Ostruznica bridge to the Orlovac loop, 7 km long
Sector 5, part from the Orlovac loop to Strazevica tunnel, 3 km long,
Sector 6, part of the tunnel Strazevica to Bubanj Potok, 9.5 km long, for which the contractor is obliged to build a highway road, 16 bridges, Beli Potok tunnel, Avala Loop and junction Bubanj Potok.
Start of the project:
December 2018

 
Completion of the project:

2 years for Section 4 from the date of commencement of works on that part;
3 years for Section 5 from the date of commencement of works on that part;
3 years for Section 6 from the date of commencement of works on that part