HUNGARIAN-SERBIAN RAILWAY PROJECT: RECONSTRUCTION AND MODERNIZATION OF THE RAILWAY LINE BELGRADE - NOVI SAD - SUBOTICA - BORDER WITH HUNGARY (KELEBIJA) - (BUDAPEST) – SECTION BELGRADE CENTER - STARA PAZOVA
Thu, 06-03-2021 - 14:33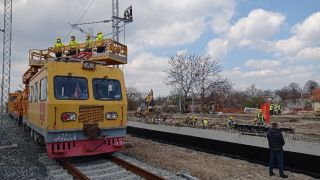 Investor: 
Serbian Railways Infrastructure JSC

Project value: 
USD 426,375,539.64

Source of financing: 
Based on the Commercial Agreement for the Belgrade Center - Stara Pazova section, the total value is USD 367,440,587.64 and pursuant to the Loan Agreement with the Chinese Export-Import Bank, the loan amount is USD 297,638,159.00 (85% of the total project value).

Designer: 
Institute of Transportation CIP

Contractor: 
Consortium of enterprizes "China Railway International Co.Ltd." and "China Communications Construction Company Ltd."

Supervision: 
DB Engineering & Consulting GmbH (водећи члан групе понуђача)
Project significance: 
The project is of exceptional strategic importance, considering that it is part of the core transversal network of the Republic of Serbia and directly connects three of the five largest cities in the Republic of Serbia. This section makes up close to half the length of the Pan-European Corridor Xb and is part of the Trans-European Transport Network (TEN-T) on the territory of the Republic of Serbia. The south branch of the 21st Century Maritime Silk Road is an important segment, as it connects the maritime container hub of the People's Republic of China in the Port of Piraeus and ports in the Far East with the countries of Southeast, Central and Eastern Europe. This is the first trilateral cooperation project between China and CIES (1 + 16) in the field of transport infrastructure, which is currently in the implementation phase.
Project status: 
Works are in progress.
• Percentage of physical realization on 22 May 2021: 54,47%
• Percentage of financial realization on 22 May 2021: 55,90%
Works are currently carried out on the superstructure and substructure on the right track of the Belgrade Center – Stara Pazova section.
Project start date: 
June 2018
Project completion date: 
September 2021