Municipality of Opovo: Construction of 14 houses for the accommodation of Roma families
Mon, 02-04-2019 - 11:47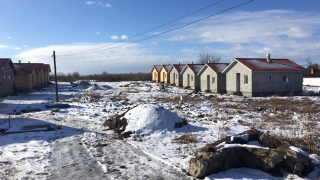 Grant Coordinator:
Municipality of Opovo
Total project value:
493,185 euros, from which EU and Ministry of construction, transport and infrastructure 419,207 еuros
Works:
-        Value: 35.750.410 RSD
-        Contractor: Dometra Ivanjica l.l.c;
Infrastructure construction - access road– value: 7,445.478,75 RSD; contractor: Stilnet Pancevo;
Timeframe:
Construction of houses: works began in mid-July 2018. The original deadline for construction was December 2018. Due to objective reasons, the deadline has been moved to the end of February 2019, but there will be further shifts due to winter weather conditions. The coordinator received an extension of the project for three months until March 5, 2019, and will now propose another extension for three months until 5 June 2019.
Infrastructure: works have not started. With the expected additional extension of the project, the deadline being May 2019.
Status of works:
- Construction of houses: all buildings are covered with falconed tiles, windows and doors are installed on all buildings. On eight facilities, waterproofing of floor slabs and thermal insulation of hard styrofoam and mineral wool were done. Works on faecal sewage, as well as most of the plumbing and electrical works, have been completed. Works are not currently performed due to snowfall and bad weather conditions.
Infrastructure: infrastructure works have not started yet.