RECONSTRUCTION OF THE SECTION JAJINCI - MALA KRSNA AND RECONSTRUCTION OF THE STATION MALA KRSNA
Thu, 06-03-2021 - 14:36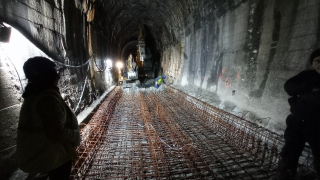 Investor: 
Infrastructure of Serbian Railways JSC
 
Project value:
EUR 39,253,214.30
Source of financing: 
Project is financed from the EBRD loan.

Designer: 
Institute of Transportation CIP
Contractor: 
Consortium "COLAS Rail" and "Energoprojekt"
Supervisor: 
Expert committee of the Infrastructure of Serbian Railways JSC
Project significance: 
The reconstruction project of the section Jajinci – Mala Krsna aims to improve the railway infrastructure on Corridor X, bearing in mind that this is one of the most important and the busiest railway routes in the Republic of Serbia.
 
Project status: 
Works are currently performed under total railway traffic suspension.
• Percentage of physical realization on 22 May 2021: 88,04%
• Percentage of financial realization on 22 May 2021: 73,07%
 
Project start date: 
30 May 2019
Project completion date: 
End July 2021